How to add Admob to your PhoneGap Apps
Check out my new book :
How To Admob Your PhoneGap Apps : Monetize your Android apps today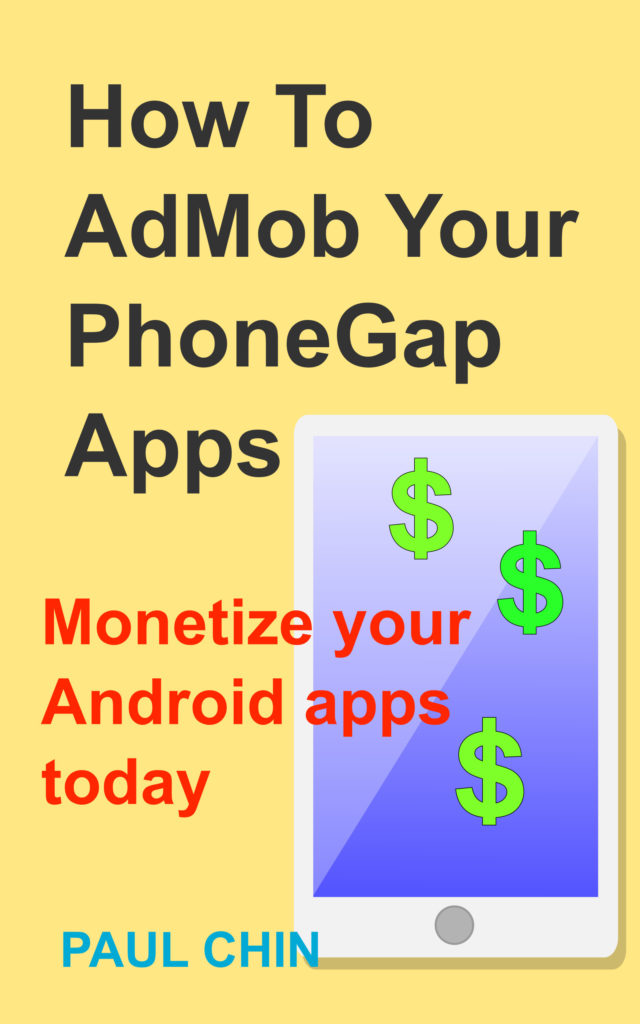 This book will help you… to create a PhoneGap App and then to insert AdMob ads into it. You will learn how to create test ads using the test ad units that Google provides, and create buttons to test them, and also how to build apk files using Adobe's phonegap build. Then, you will learn how to create keystores and sign your apk file, how to use live ads for publishing your app to the Google Play Store.
I wrote this book because… there is no one single place on the Internet that taught me how to add AdMob into a PhoneGap app.. I had to piece it together painstakingly from bits and pieces all over the place. PhoneGap is such a common platform for building apps yet no one has taken the trouble to write a guide or write a step-by-step tutorial on how to do it. Trying to get AdMob onto your PhoneGap app was such a hackish activity that it tends to put many people off. So, I decided to put together all my notes into a neat little book so as to document what I had done and also hopefully to help people out there who are facing the same problems.
Android App to accompany the book
There is also an Android app 'PhoneGap AdMob Guide' which accompanies the book. You can download the app here.

The book and the app consists of step by step tutorials with complete details on how to add AdMob banner ads, interstitial ads and rewarded video ads to your PhoneGap apps. No prior knowledge assumed. The guides will start from zero and take you by the hand on how to create a phonegap app all the way to inserting AdMob ads. There are many screenshots to make it easy to follow along. The contents include:
Creating phonegap project
Adding JQuery Mobile
Creating a basic page
Handling button clicks
Configuring config.xml file
Uploading to github
Building an apk file
Installing Nox Player Android emulator
Adding AdMob
Creating Live Ads
The two steps solution to adding AdMob to your PhoneGap apps:
Step 1: Download the ebook here : https://amzn.to/2INROlo
Step 2: Get the Android App here: http://bit.ly/2vdcNoJ
Enjoy the book and the app and I hope it helps you guys who are struggling with getting AdMob onto your apps. I wish you all success in your PhoneGap apps development!
Tags:
html5 app development
,
hybrid apps
,
jquery mobile